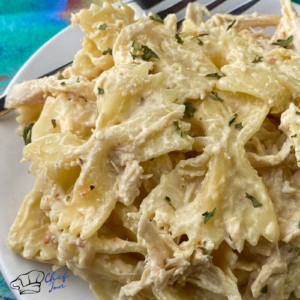 Mombo's Creamy Chicken & Bowtie Noodles
An easy recipe that is sure to be a crowd pleaser. Great for servicing large groups. This recipe can be made in a slow cooker or
Ingredients
3-4

Large Chicken Breasts trimmed

1

Pack of Zesty Italian Seasoning

1

Block of Cream Cheese

1

Large Cream Of Chicken Soup 22.6 Ounces

1

Box Bow Tie Pasta
Instructions
Slow Cooker Method- 3-4 Hour Cook Time
 Add chicken breasts. to slow cooker  Sprinkle packet of Italian salad dressing mix on chicken.  Dump can of soup over chicken and set cream cheese on top.  Cook on high for 3 – 4 hours until chicken reaches an internal temperature of 165 degrees F.

Make pasta according to instructions on the box. Be sure to salt your water. Shred chicken with one or two forks.  Chicken should shred easily.  Add cooked pasta to Crock Pot and stir well.  Serve immediately or turn to keep warm. 

Garnish with fresh diced tomatoes and parsley if desired
Slow Cooker Method- 1.5 Hour Cook Time
Bring one pot of water to a boil. Add chicken breasts and boil until they are easily able to tear apart and shred.

While chicken is boiling add soup mix, italian seasoning to the slow cooker. Stir until mixed well. Cube block of cream cheese and add it to the slow cooker. Cook on high stirring occasionally.

When chicken is cooked to 165 degrees F. and easily able to shred. Shred chicken and add to slow cooker mixture. Stir chicken into mixture. Continue to cook on high for 30-45 minutes until mixture is warm.

Serve of bowtie pasta noodles and garnish with diced tomatoes and/or parsley if desired.