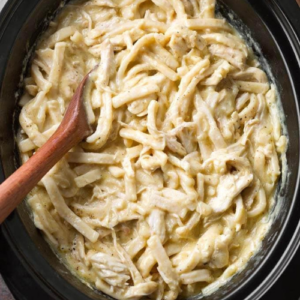 Jon's Chicken & Noodle
Ingredients
5

Large Chicken Breasts

2

12 oz bags of Reames Egg Noodles (you can also find in one large 24 oz bag)

Found in frozen section

1

Stick Salted Butter

2

32 Oz Chicken Broth

1

Large Can (22.6 oz) of Cambells Cream Of Chicken Soup
Instructions
Place trimmed chicken breast into large pot for boiling

Pour chicken broth into pot so that it just rises above the chicken

Boil the chicken breasts until tender and easily able to shred

Drain the chicken broth (with a strainer) into another large pot and retain chicken broth.

Shred or dice the chicken into small pieces.

Return to pot and then add back in the strained chicken broth.

Add Cream of Chicken Soup & Stick of Butter. Stir

Add Reames Noodles and simmer until hot. Serve with mashed potatoes.