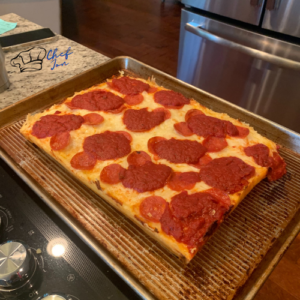 Jeff's Detroit Style Pizza
A wonderful deep dish Detroit style pizza sure to be a crowd pleaser.
Equipment
9X13 Detroit Style Pizza Pan
Ingredients
Sauce
1

Shallot (minced)

1

tsp

Fresh Garlic (minced)

1

tsp

Fresh Basil (chopped)

¼

tsp

Oregano

3

Oz

Tomato Paste (Plain)

1

tsp

Salt

¼

tsp

Pepper

1

Pinch

Red Pepper Flakes (a little goes a long way)

1½

TBSP

Butter

4

tsp

Grated Parmesan Cheese

14

Oz

San Marzano Tomato Puree
Dough
2½

Cups

King Arthur Unbleached Bread Flour

1 ½

tsp

Instant Yeast

1

Pinch

Sugar (to help the yeast)

1

Cup

Lukewarm Water

EVO Olive Oil (for greasing pan)
Toppings
Munster Cheese (freshly grated)

Low Moisture Mozzarella Cheese (freshly grated)

Any Other Toppings Your Desire
Instructions
Pre-Heat Oven To 500 Degrees F
Sauce
Combine sauce ingredients and stir (or blend). Set aside or refrigerate overnight for better flavor
Dough
Weigh your flour; or measure it by gently spooning it into a cup, then sweeping off any excess. Mix and knead all the dough ingredients — by hand, mixer, or bread machine set to the dough cycle — until a shaggy dough forms.

Cover the dough, allow it to rest for 10 minutes, then knead it again until it becomes smooth and elastic (if you're using a bread machine, skip the rest and allow the machine to complete its kneading cycle).

Form the dough into a ball, place it into a lightly-greased bowl, cover, and allow to rest until doubled, about 2 hours.

Drizzle 1 to 2 tablespoons of olive oil into a Detroit-style pizza pan or a 9" x 13" pan. Gently stretch the dough into the edges and corners of the pan until it starts to shrink back and won't stretch any farther.

Cover the pan, and allow the dough to rest and relax for 15 to 20 minutes before stretching it again. Repeat the rest one more time, if necessary, until the dough fills the bottom of the pan.

Cover the dough and allow it to rest for 30 to 45 minutes while you prepare the sauce. In the meantime, position a rack at the lowest position of the oven, and preheat the oven to 500°F.

Place dough into pre-heated oven for 4 minutes (no toppings)

Remove dough from oven and add a combination of fresh grated Munster Cheese (along the edges) and low-moisture mozzarella cheese over the rest of the pizza.

Place other toppings on the pizza such as pepperoni, sausage, mushrooms, ect.

Use a spoon to dollop sauce over pizza. Sauce should not cover entire pizza but be in dollops on each slice. (see picture)
Baking
Bake with toppings in 500 degree F oven for 10-15 minutes or until cheese is bubbly and the edges have turned nearly black.

Remove the pizza from the oven, run a spatula around the edges to loosen it from the pan, and let it rest for 10 minutes, or until you can handle it. Transfer the pizza to a cutting board, cut, and serve.