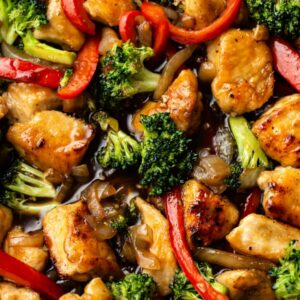 Teriyaki Chicken Stir Fry
This easy teriyaki chicken stir fry recipe has broccoli, bell peppers, onions, and tender chicken coated in a sweet and sticky sauce. It's a delicious weeknight meal!
Ingredients
4

Boneless skinless chicken breasts

1

tsp

Garlic Powder

Pepper to taste

½

tsp

Salt

6

TBSP

Cornstarch

Olive Oil

Medium Sweet Onion (cut into strips)

3

cups

Broccoli Florets (cut into small pieces)

1½

cups

Shredded Carrots

1

Red Bell Pepper

2

cups

Snow Peas
Sauce
1

cup

Chicken Broth

6

TBSP

Mirin

4

TBSP

Soy Sauce

2

tsp

Rice Vinegar

1/2

cup

Dark Brown Sugar

2

TBSP

Corn Starch

2

tsp

Grated Fresh Ginger

4

Cloves Garlic (minced)
Instructions
Prep the ingredients before you start cooking - once the recipe is started, it goes quickly. Cut the veggies into bite-size pieces (make sure that the broccoli is cut quite small) so they cook at a similar rate.

Add the sauce ingredients to a medium bowl and whisk everything together.

Cut the chicken into 1" pieces and add them to a bowl. Sprinkle the pieces with the garlic powder and some pepper. Stir to combine. Add the cornstarch and stir until the chicken is coated.

In a deep skillet (for best results use an iron skillet), over medium-high heat, add 2 tablespoons of the oil. Let the pan heat up for a few minutes.

Add the chicken pieces (do not crowd the pan - I recommend doing 2 batches), shaking off the excess cornstarch prior to adding them to the pan. Cook for 4 minutes and then flip and cook another 3-4 minutes or so (I flip using tongs to make it easy). Chicken should be browned and cooked through (165F). For the second batch, I add another tablespoon of olive oil to the pan. Transfer each batch of the chicken to a plate once it's done.

If the pan is dry, add a small splash of olive oil (a teaspoon or so), and then add the onions. Cook for 1 minute, stirring a few times.

Add in the broccoli, carrots, snow peas, and peppers, and cook for 3 minutes, stirring often. Veggies should be tender-crisp. Give it a little longer if you want them softer.

Add the chicken back to the pan and stir in the sauce (whisk it again quickly prior to pouring it in). Let it bubble until thickened (less than a minute), stirring constantly so everything is coated. Take the pan off the heat and serve immediately.