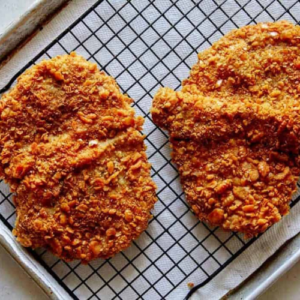 Papaw's Tenderloin Sandwiches
A tradition growing up in Indiana on Christmas Eve
Ingredients
1

1 lb. Pork Tenerloin

2 Packages of Ritz Crackers (about 1/2 box)

5

Eggs (beaten)

Vegetable/Peanut Oil For Frying

Hamburger Buns

Salt/Pepper
Instructions
Prepare the tenderloin by cutting away all fat/silver.

Cut the tenderloin crosswise into ½-inch slices using a sharp knife.  Place the slices of pork on a cutting board and cover with a sheet of plastic wrap or wax paper. The plastic wrap keeps the pounder or mallet from sticking to the meat.

Using a meat pounder. Pound each slice until thin.

Beat eggs into a large bowl

Crush 2 packages of Ritz Crackers and place onto paper plate

In a large skillet add a thin layer of vegetable oil. You don't want it to completely cover the tenderloins as you fry them.

Heat the oil on medium heat. You do not want your oil too hot.

Dredge the pounded tenderloin into the beaten egg and then coat with the crushed ritz crackers.

Add to hot skillet. Salt/pepper to taste.

Fry on each side until golden brown. Serve on a hamburger bun.